Blues boss David Healy - going through?
Q Radio Sport
Linfield's Champions League preliminary round final in Switzerland on Tuesday evening has been dramatically postponed at the last minute.

The Blues say the clash with FC Drita in Nyon was called off due to Covid-19 issues for their opponents.

The decision was announced little more than an hour before the scheduled 5pm kick-off.

The Kosovo club previously announced two of their players had tested positive for coronavirus in recent days.
As a result, Swiss health authorities decided to put the entire team into quarantine - so the Linfield game couldn't take place.

Ruling body UEFA is due to decide within the next 24 hours if Drita should forfeit the tie, with Linfield going through to the next round.
David Healy's men would then travel to top Polish team Legia Warsaw next Tuesday (18 August) in the Champions League first qualifying round.
Breaking - @OfficialBlues have been advised by @UEFA that this evening's @ChampionsLeague Preliminary Round tie v @DritaFc has been postponed due to Covid-19 issues within the Kosovan team. Further details will follow once Linfield hear the outcome from UEFA's Disciplinary body

— Q Radio News (@qnewsdesk) August 11, 2020
The final game against Linfield F.C. has been cancelled by Switzerland authorities in cooperation with Uefa.

— FC Drita (@DritaFc) August 11, 2020
It's been looking ominous for the Kosovo champions over the past few days:
From todays testing for COVID-19 our player Hamdi Namani has tested positive.
Bujar Shabani is not being allowed to train with the team even though he has tested negative 4 times in a row.
Funny thing Fidan Gerbeshi also tested negative today.🤔🤔@UEFA @ChampionsLeague

— FC Drita (@DritaFc) August 10, 2020
Official lineup:
Missing players: Fidan Gerbeshi tested positive for COVID-19, Bujar Shabani even though he tested negative he will not play because he had contact with Gerbeshi. pic.twitter.com/Qz5nr5ChYE

— FC Drita (@DritaFc) August 8, 2020
Today 32 of our players and staff got tested for COVID-19, after the first test 17 tested negative, 15 tests came back inconclusive.
Second tests came back negative and we are good to go.
🔵⚪️

— FC Drita (@DritaFc) August 6, 2020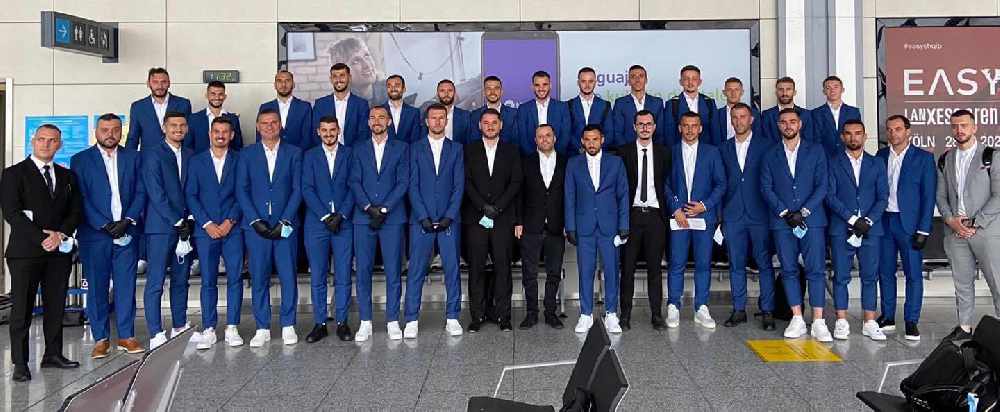 All dressed up and no place to go - Drita on arrival in Switzerland.
Meanwhile, Linfield chairman Roy McGivern has been making waves with a club interview on the shores of Lake Geneva.
He said new recruits from Glentoran Navid Nasseri and Conor Pepper were desperate to move to Windsor - and didn't do it for the money.
Here it is in full:
August 10, 2020
The Glens have been doing some business of their own, with two international signings: -
Just in @Glentoran sign Gibraltar international goalkeeper Dayle Coleing

The 23-year-old was Gibraltar Premier Division Goalkeeper of the Season with saves likes this for Europa FC 🎥@DayleColeing@EuropaFc_Gib@GibraltarFA@Glentoran#DanskeBankPrem pic.twitter.com/Eu45uK5NH3

— Q Radio News (@qnewsdesk) August 11, 2020
Big signing at Oval....Burundi international @BigiGOfficial.

Gael joins Glentoran after playing for clubs such as @Coventry_City, @NUFC, @MotherwellFC and @HibernianFC now @Glentoran: pic.twitter.com/rnHQhZ9cHQ

— Q Radio News (@qnewsdesk) August 11, 2020