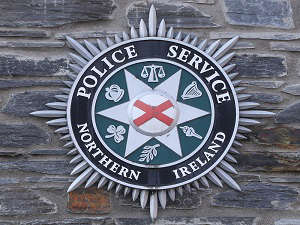 Jonathan McCambridge (PA)
Police have made four arrests following a disturbance involving masked men at a shopping centre in Co Down.
The incident on the Circular Road area of Newtownards comes after days of tension in the Ards and North Down areas linked to loyalist factions.
Eleven properties have been attacked in recent days in a feud between drugs gangs which police have said are made up of expelled members of the UDA.
Superintendent Johnston McDowell said officers responded following reports a man had been assaulted by a masked gang in a shopping centre on Friday afternoon.
He added: "It was reported that they then left the area in a BMW vehicle.
"Within five minutes of receiving the initial report, officers were in pursuit and located the car and four occupants in the Kemp Stones Road area just after 3.35pm.
"Four men, aged in their 20s and 30s, were arrested on suspicion of a number of offences, including assault and public order offences.
"They remain in custody at this time assisting with enquiries."
Mr McDowell added: "We are grateful to the members of the public who reported this incident to police.
"Community support is invaluable to the robust policing operation which we have implemented to conduct our investigations and deter further criminality.
"We will continue to maintain a presence in the area through high-visibility patrols by our neighbourhood and local policing teams, along with the specialist expertise of our armed response units and tactical support group officers."
Meanwhile, DUP leader Sir Jeffrey Donaldson has held talks with PSNI chief constable Simon Byrne about the tensions in Co Down.
He also raised a separate incident in which three masked men shot a male victim in the legs on Thursday night in west Belfast.
Sir Jeffrey said: "There is only one police force in Northern Ireland.
"Criminal gangs meting out their own kangaroo court justice have no place on our streets.
"I have assured the Chief Constable that the PSNI has my full support in removing these criminals from society and placing them behind bars."
The DUP leader added: "There should be no illegal guns on our streets, whether that is in Newtownards or west Belfast.
"The police have my support to use whatever means necessary to rid our streets of these drug-dealing, gun-toting, knife-wielding masked gangsters who are a plague in their communities."
Police have increased their presence following the incidents in Co Down, which have occurred in Newtownards, Bangor, Ballywalter and Donaghadee, and have included petrol bombs and a pipe bomb attack.
Meanwhile, detectives are appealing for information and witnesses following the report of the shooting in west Belfast.
Shortly after 9pm on Thursday, three masked men shot the victim in both legs outside a property in the Whitecliff Drive area.