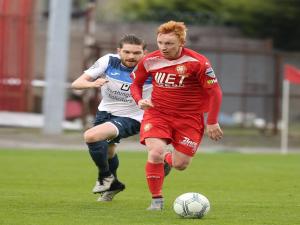 The Irish Football Association rule that Portadown should not have played Robert Garrett during their 3-1 league victory over Ards
Portadown FC have been made to forfeit a match and fined £350 for playing a suspended player in a league match with Ards.
Midfielder Robert Garrett scored in the 3-1 victory on Saturday 29th October.
The matter was reported to the Irish Football Association and it has ruled that the Ports' broke league rules.
In a statement the IFA said:
"Following consideration of Portadown's written comments, the Discipline Committee has today charged the club with a breach of Article 22.1 of the Disciplinary Code namely, ineligibility through suspension. As a result, the club has been sanctioned with a £350 fine and will forfeit the match by the score 3-0.
"The Committee in considering the matter was mindful of the recent Warrenpoint Town Arbitration decision which confirmed that the Committee does not appear to enjoy a discretion in relation to a player who participated in a match whilst under suspension.
"Paragraph 37 of the decision states 'It follows that I consider that Article 23.1 of the Disciplinary Code when construed in the light of Article 1.6 gives a discretion to the Disciplinary Committee in cases in which the offence is committed by an official rather than by a player.
"It follows that I consider that if the offence had been committed by aplayer the discretion would be excluded by the AoA and the relevant provisions of FIFA and UEFA.

"In addition, the Committee was satisfied that Portadown knew or ought to have known the current rules with regards to suspensions."
The club started the season with minus twelve-points for registering a paid player as an amateur.
Portadown now sit on a total of minus three league points after 14 matches following the ruling.
Ards move up to 7th in table on 20 points.