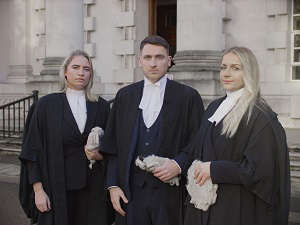 By Rebecca Black
Criminal barristers are set to go on strike at all courts across Northern Ireland over "long overdue payments".
It will be the first time that barristers in Northern Ireland have taken such comprehensive industrial action.
On Friday, all criminal barristers engaged in both criminal defence and prosecution work will withdraw their services, and will not attend criminal court for any work or engage in any associated legal administration work, except for emergency matters.
This action applies across all the criminal courts, including the Crown Court, Magistrates' Court, Court of Appeal, High Court and legal representation at extradition hearings and parole hearings.
It comes as barristers argue that the Department of Justice has failed to address payment delays for work completed under the Criminal Legal Aid system, leaving them facing financial challenges.
They said they can wait up to six months for payment following the end of a legal aid case.
The decision to strike was taken following a vote by the Criminal Bar Association of Northern Ireland (CBA), and will involve more than 200 barristers across the region.
They are calling on the department to "end its unsustainable policy of payment delays and pay barristers within a reasonable timeframe".
On Friday, the department announced a further £10.9 million to improve payment times for legal aid, and said they are continuing with an ongoing dialogue with the CBA on a wide range of issues.
However the CBA blasted a "last minute effort" by the department to resolve the payment delays in the short term as "only a temporary sticking plaster".
"It does not achieve the necessary change in departmental policy and does not fix the structural problems associated with long overdue payments," they said.
Chair of the Bar Council, Moira Smyth KC, said the department needs to adopt a policy that ensures payments are made within a reasonable timeframe.
"The Bar Council has, for many months, been exhaustively exploring every other possible measure, and has consistently called for urgent action from the Department of Justice to avoid any withdrawal of services taking place. Sadly, our warnings that access to justice is reaching a tipping point have now been realised," she said.
"The department needs to do more than merely recognise the validity of our arguments. They need to be both accountable and responsible for ensuring that they adopt a policy that will see payments for work done made within a reasonable timeframe. The lack of a justice minister is no excuse for this worsening issue.
"No other jurisdiction across the UK and Ireland has chosen to address legal aid budget pressures by financially punishing the lawyers who provide a crucial public service."
"This untenable budget management policy of the DoJ places the very future of publicly funded legal services at risk and weakens access to justice. The Bar Council is prepared to challenge the generational harm that will inevitably be inflicted upon our justice system."
One of the criminal barristers to go on strike, Thomas Thibodeau, said: "Legal Aid is at the heart of the justice system, with studies showing that there are social and economic benefits to come from increased public investment in legal aid.
"The now intolerable payment delays risk turning away many more of our colleagues from representing the most vulnerable citizens in society facing the most challenging of circumstances."
Another criminal barrister, Taryn Graham, added: "As independent, self-employed practitioners, these payment delays place us in a wholly unprecedented position.
"The financial challenges being faced are hitting younger and female lawyers the hardest.
"Today's initial strike action has not been taken lightly. It is a regrettable but necessary measure to preserve the viability of legal aid as a vital, demand-led public service that embodies the core of access to justice."
Department of Justice permanent secretary Richard Pengelly said he appreciates the frustrations of criminal barristers.
"I fully appreciate the challenges faced by the legal profession in Northern Ireland. It is no secret that the current budget provision is insufficient, and I have made this point to the profession on a number of occasions," he said.
"Rather than representing a late effort to address the issue, this multi-million package is evidence of the seriousness with which my department views the issue. It also highlights the work that has been done and continues to be done to resolve it.
"This money will greatly assist in improving the projected payment times to the end of the current financial year. I will continue to engage with the relevant organisations in an effort to manage the issue going forward.
"Given this additional funding and the ongoing engagement, the action being taken by the Bar is premature at this time.
"I am sympathetic to the frustration of the profession and remain committed to highlighting the issue of timely payments at every opportunity, however, this action risks adversely impacting those who need legal representation at a time when the Department of Justice cannot resolve the matter."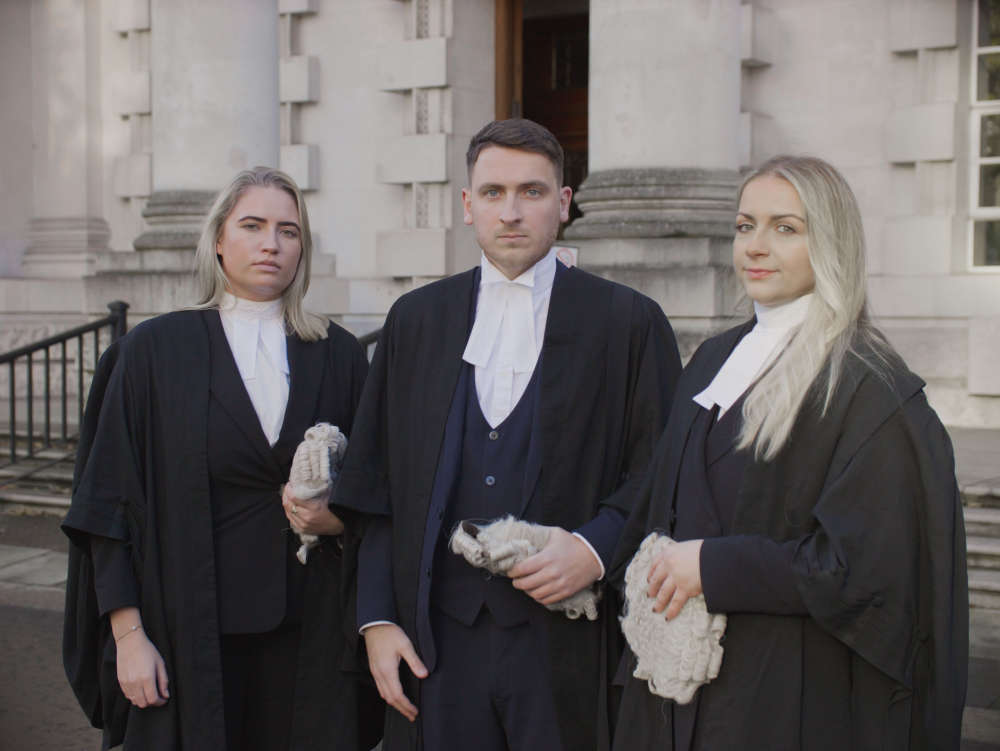 Aoife Marken, Thomas Thibodeau and Taryn Graham who are part of the wider group of Criminal Barristers on strike today due to payment delays by the Department of Justice (Photo by PA)