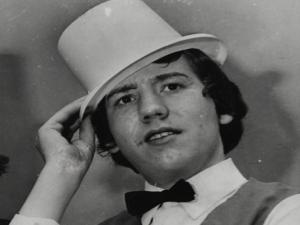 By Claudia Savage (PA)
Actor James Nesbitt has led a renewed appeal for information into a teenager abducted during the Troubles.
Nesbitt said it was "haunting" and "heartbreaking" for the family to be without closure almost 50 years on from the disappearance.
Nesbitt, who grew up in Ballymena, Co Antrim, works with the WAVE trauma group for victims and survivors of the Troubles.
He is leading a continued appeal for information in relation to disappeared teenager Columba McVeigh after the sixth search for his remains ended without success.
The 19-year-old from Donaghmore, Co Tyrone, was abducted by the Provisional IRA, killed and secretly buried in 1975.
The Independent Commission for the Location of Victims' Remains (ICLVR) has conducted six unsuccessful searches at Bragan Bog in Co Monaghan since 1999, covering more than 26 acres.
Nesbitt told the BBC that he has known Columba's family "for many many years".
"It's just been heartbreaking and difficult to see them go through this terrible cycle of hope, so many times, six times now," he said.
"The dig starts, they are just praying that the information is correct. Every day, it's not just like now and again, they're thinking about this.
"I was with the family when the search started over a year ago in Bragan Bog, a bleak, desolate place, somewhere you don't want to be going every day, somewhere you're hoping and hating the memory of the thought that your brother could be there.
"But that's what they live by, that hope."
He added: "When the people that you meet, the people you're close to, when their one hope for Christmas every year is to be walking behind the coffin carrying the remains of their brother, you know how desperate a situation they're in."
Nesbitt said he believed information that could help lead to Columba being found was out there.
"I certainly believe that there's information out there, but also I do believe that there are people out there with information that want to bring it forward," he said.
"But they just maybe think that time has passed, or maybe think someone else has got the better information or someone else can come forward – don't.
"Please look into yourselves. If it takes a little bit of conscience or even more important jogs a bit of memory that takes you there, because the information I'm certain must be there.
"But as we say, time is passing. If people are coming forward and saying 'listen, we're pretty certain it's there', they're not doing that for fun, they're doing that because that's where they believe it is.
"I think that's what we all believe in terms of the family, so we just hope the right information comes."
Nesbitt said that not being able to locate Columba's remains after 50 years was "haunting" for his family.
"What's so haunting about Colombia is they've had five decades of just continuing, never going away, just wondering," he said
"And then having to be confronted with the notion that he may be lying in a place as desolate as Bragan Bog is so painful.
"And it's something that we just cannot move on from at home. I find it so important.
"Everyone talks about legacy and that is its own conversation at the minute, but for these people, this is their daily battle."
Nesbitt also said that politicians in Northern Ireland were not doing enough to move society on from the legacy of division from the Troubles.
"One would have thought that politicians are there to represent us, to serve us and to do the right thing," he said
"Frankly, I'm not really certain that any of those boxes are being ticked at the minute.
"I think it's a bit embarrassing and honestly, I think it's a wee bit shameful."
He added: "I think they need to get off their arses frankly."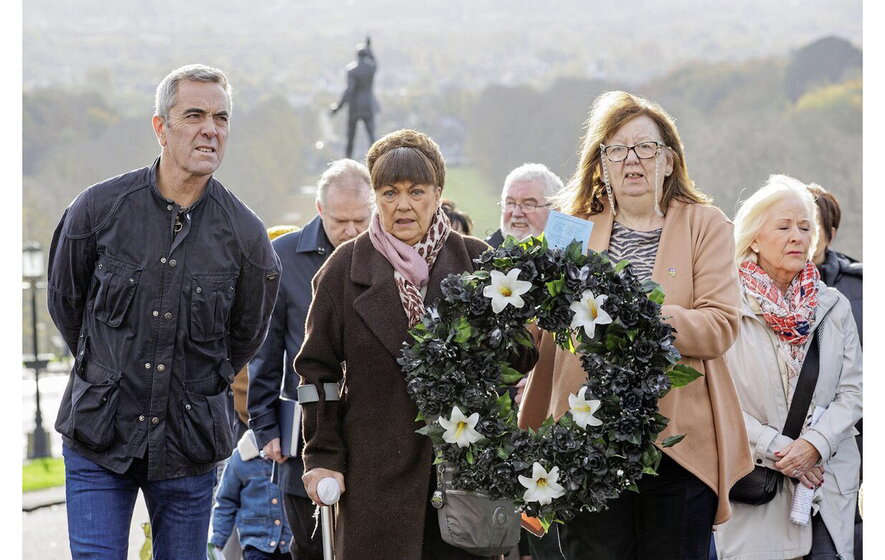 Actor James Nesbitt (left), a patron of the WAVE Trauma Centre and long time friend and supporter of the Families of the Disappeared, walking with Joe Lynskey's niece Maria Lynskey (centre) and Columba McVeigh's sister Dympna Kerr (right) during the 17th annual All Souls Silent Walk for the Disappeared at Stormont (Photo by PA)