Translink announces final 'Sessions Six' in search for next local music star.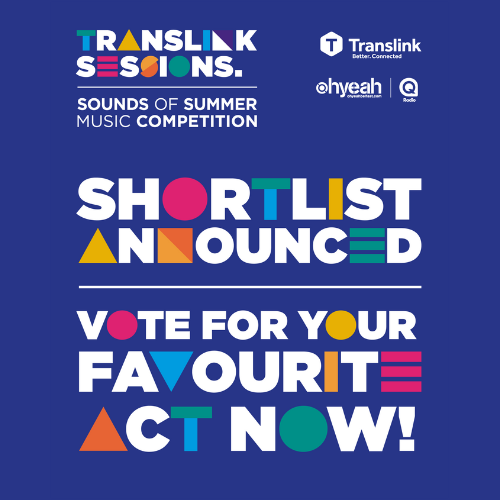 Translink Sessions

Northern Ireland public transport provider Translink has announced the shortlist for its
'Translink Sessions' music competition which was launched earlier this summer to search for
local, unsigned music talent.

After a robust judging process where each artist had to submit an original song based
around the theme of 'connections' a panel of industry experts have now whittled the entries
down to the final six acts. They will now perform in a series of busking sessions across
Translink's stations during August and the competition will then culminate in a live final on
30th August at the Oh Yeah Music Centre in Belfast.

The six finalists will battle it out for the coveted title of 'Translink Sessions Winner' as well
as a prize package of £1,000, valuable airtime on Q radio, industry mentoring and recording
studio time.

Finalists include Armagh/Tyrone based indie-emo band Birches and Newry native Jack
Devlin. Also, through to the finals are indie folk artists Max Sloan originally from Newtownards and Niall McDowell from Belfast. Completing the line up are Northern Irish/Ghanaian musician and Glastonbury icon from Belfast, Winnie Ama along with rising star Cora Harkin from Derry who at just 14 years of age can already command a large audience with her live sets.

Speaking about the Translink Sessions shortlist Sean McGreevy, at Translink who joined
the judging panel said: "We are delighted with the six artists that have made our final but it was no easy task to whittle it down from the over 40 entries received, which only goes to highlight the depth of
musical talent there is across Northern Ireland.

"At Translink we're proud to deliver services which help connect people in all aspects of their
lives. With that in mind we set the brief for artists to submit an original song based on the
theme of connections. All six of our finalists really impressed the judges with their songs and
we look forward to showcasing them in the weeks ahead at our station busking sessions as
we prepare for the grand finale at the end of August."
🎉 The shortlist for 'Translink Sessions' has been revealed.

🎵 Check out our finalists & look out for details of busking sessions in the coming weeks showcasing this amazing talent ahead of the live final on 30th August at @OhYeahCentre #TranslinkSessions #BetterConnected pic.twitter.com/ZisfmwomtJ

— Translink (@Translink_NI) July 31, 2023

Caoimhe O'Connell at the Oh Yeah Music Centre added: "We were blown away by the level of talent that emerged through this competition. We had entries from all sorts of artists, from different genres and walks of life and choosing the final six was a major challenge. But we are delighted to be hosting these six fantastic artists and their original songs in the Oh Yeah Centre on 30 th August. We believe the tickets will get snapped up fast, so our advice is to book early if you want to support this up-and-coming talent."

Declan Wilson at Q Radio said: "I was delighted to be part of the judging panel for the competition and I'm even more excited to be hosting the live final now that I've seen the quality of acts, we have shortlisted. It
promises to be an exciting evening and a great showcase of local talent.

"Being a radio presenter, we are always on the lookout for fresh local music to play on the
show and all these acts have definitely embraced the 'connections' brief with their
songwriting and undoubtedly have that star quality."

To vote for your favourite finalist's head to Translink Sessions — Oh Yeah Music Centre
ohyeahbelfast.com or to secure your tickets to the live final
https://www.eventbrite.co.uk/e/translink-sessions-live-final-tickets-687912112647