Translink Sessions seeks Sounds of Summer with local music competition to support unsigned talent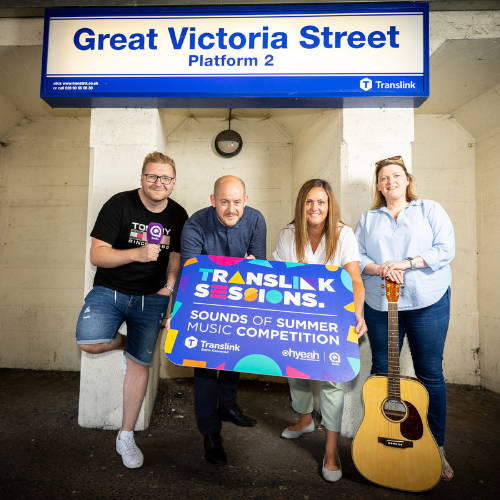 Marking the launch of Translink Sessions are Declan Wilson, Q Radio, Neal Brown
and Gemma McMurray, Translink and Charlotte Dryden, Oh Yeah Music Centre.

Things are heating up this summer with the launch of Translink Sessions: Sounds of Summer - a search for local, unsigned music talent, in partnership with the Oh Yeah Music Centre and Q Radio.

The music competition is calling for musicians of all styles and genres, from solo singers to five-piece bands; rappers to rock groups; pop to punk. The winning act will receive a prize package including £1,000; professional coaching and mentoring from Oh Yeah Music Centre industry experts; professional recording studio time and airtime on Q Radio. Entry is simple, with the submission of an original song, themed around connections.

The initiative marks a revamped return of the popular 'Metro Sessions' competition which ran in 2019, that saw local Bangor-based band, Gin Palace, awarded the winning title.

This year's competition will give successfully shortlisted acts the chance to perform a busking-style gig in one of Translink's local stations in August, as well as a place in the line-up at the grand finale event on the 30th August at the Oh Yeah Music Centre in Belfast's Cathedral Quarter.

Speaking at the launch of Translink Sessions, Gemma McMurray from Translink, said:
"With Belfast playing host to so many great music events this summer and recently being recognised as a City of Music by UNESCO, it's a great time to launch Translink Sessions and celebrate the impressive local music talent across Northern Ireland. Music is something which helps connect people, and at Translink we're committed to ensuring our passengers are better connected with the help of our staff and services, so it was fitting that the theme for this year's competition is 'connections'.
🎵 Translink & @ohyeahcentre are searching for local musical talent! Whatever your style you could be in with a chance of winning £1,000, professional mentoring, studio time & airtime with media partner @QRadio

Link in our bio to submit entries.

Good luck! #TranslinkSessions pic.twitter.com/Wn4j8LT6yi

— Translink (@Translink_NI) June 27, 2023

"This year we're also keen to bring more of the competition to life within our stations for passengers to enjoy, with a series of busking sets for shortlisted acts. This will not only provide an extra platform for entrants to perform, but will also help generate support for each act. We're really looking forward to discovering and showcasing the great talent that Northern Ireland has to offer and would encourage anyone interested in developing their music career to get involved."

Charlotte Dryden, Oh Yeah Music Centre added.
"It's a really exciting time to be involved in new music in Northern Ireland and we delighted to work with Translink once again to support local musical talent and promote the industry to a wider audience. There is a lot of undiscovered talent out there and Translink Sessions is a great opportunity to help kickstart someone's career in music. The finale event will also be a fantastic opportunity to enjoy new, local music, so we expect tickets to be in demand."

Declan Wilson, Q Radio said:
''I'm absolutely buzzing that Translink Sessions is back in action for 2023. I really enjoyed being part of it in 2019 and I'm looking forward to seeing the up and coming talent of Northern Ireland this year.''

To find out more and to submit an entry visit: https://ohyeahbelfast.com/translink