The handwritten notes, cards & letters from children keeping front line workers going
As the Coronavirus continues to change life for the many young people around Northern Ireland, their resilience and compassion has shone through in a series of handwritten cards, colourful drawings and letters received by front line workers.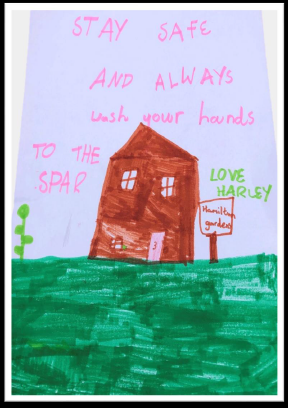 SPAR NI has shared just a few of the letters teams at their stores have received from children who are thanking them for their service which have been cheering them up as they come to terms with their new normal in stores.
Stephen from SPAR Lambeg said their drawing from Harley was a great morale boost; "I think during normal life, nobody really thinks much of an essential service being provided and it is only when everyone has to do a dramatic shift do we really appreciate what has been on our doorstep all along.
"It really is so lovely to receive these cards and letters. I think our future is in safe hands with these thoughtful children who are also having to adapt and try to understand why everything is different now."
Bronagh Luke, Head of Corporate Marketing at the Henderson Group which owns the SPAR brand in Northern Ireland agrees, saying; "The whole country has had to completely change what their normal is, but when it feels like everywhere you look there is bad news, these little rainbow coloured flashes of light shine through, thanks to our young ones. They're the most resilient of us all and we're very grateful that they have our front-line workers in their thoughts right now."
In one, Cora from Whiteabbey calls her local SPAR staff her "local hero" as their store "stayed open when others didn't… making sure we are feed [sic] and can send messages by post."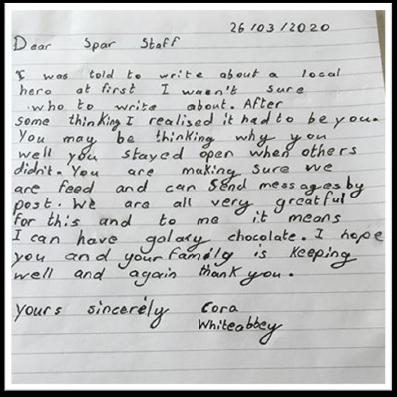 Emily, aged 10 from Rathcoole wrote, "it's times like this when you realise without stores and small shops that we would have nothing."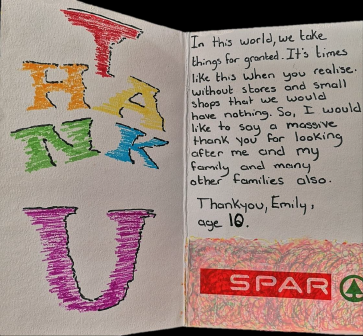 Turning creative with a poem, Jess and Georgia said; "We thank you Parkgate SPAR, for being our lucky star, you are always open, even when times are broke. You greet us always with a smile, and you always go that extra mile!".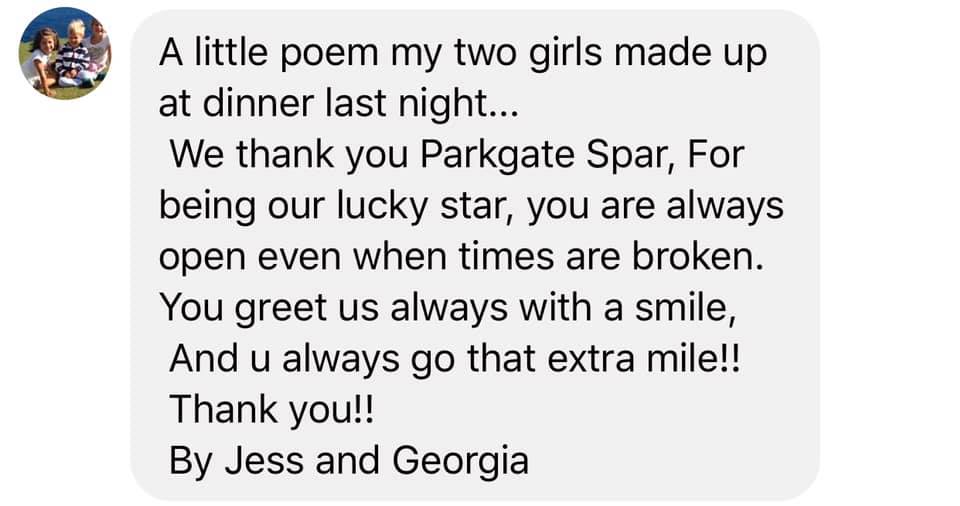 And it's not just the young people sharing their appreciation, the teams at SPAR, EUROSPAR and VIVO stores are being inundated with thanks whether it be about helping a vulnerable person in the community with a home delivery to enforcing effective social distancing measures and keeping the shelves stocked.
Such appreciation came from one vulnerable, self-isolating couple in Bangor who have not been able to get deliveries with their local supermarket and told the team, "it's really hammered home just how much we took our daily visits to the SPAR for granted… you have done everything [they] said it would but couldn't."
Annie in Ahoghill wrote to her local store; "Just wanted to say a heartfelt thanks to all the wonderful workers in the SPAR Foodmarket. You are always there to provide for us…"
Bronagh finished; "we're always incredibly proud of our store staff, however they have stepped up in these challenging circumstances and made sure our shoppers feel safe and are able to get their essentials even if they're isolating or cannot get to the store. So, we echo those sentiments shared by our valued shoppers."