Q Radio is in the market for lots of seasonal cheer!
BELFAST CHRISTMAS MARKET MAKES A WELCOME RETURN AND CELEBRATES ITS 18TH YEAR AT CITY HALL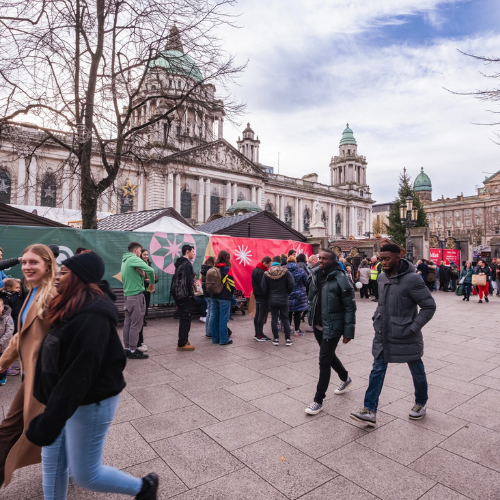 The gates to Belfast's largest festive event will open at 12noon on Saturday the 18th of November.
With over 1million visitors expected from across the UK and Ireland, the Belfast Christmas Market has become a significant contributor to the local economy, regularly generating an economic impact in the city in excess of £80m, demonstrating the citywide benefit of the award-winning event.
Allan Hartwell, Managing Director of Market Place Europe Ltd said:
'As we celebrate our 18th year in Belfast, we have been looking back at the relationships we have built, the charities we have supported and the 1000's of children we have welcomed on our free school tours. We and our traders have long held Belfast in high regard, and we are very excited to be returning to the city to deliver this very special event.'
As part of the 18th birthday celebrations, the food court will be home to a bespoke designed Q Radio DJ booth, with local DJ's broadcasting BIG chats and festive tunes live across Northern Ireland.
With international and local traders in the annually built festive village, the event offers something for everyone and is one of the most diverse markets in the UK. Traders representing up to 30 nationalities from across the globe offer a variety of authentic cuisines such as bite-size Dutch pancakes, delicious vegan Greek gyros and delicious hand-crafted chocolates and sweet treats. Carefully curated handcrafted goods and bespoke artisan products provide great choice for those hopeful of ticking off that all-important Christmas shopping list. Visitors can also wind down and treat themselves in one of the bars serving local and continental drinks, or with a tasty hot glühwein from Kochem's in the food court, a great place to people watch and take in the magical sights, smells and sounds of the market.
Now celebrating its 18th year, Q Radio returns as proud media partner to the Belfast Christmas Market. This year with a new DJ Booth to get you rocking around the Christmas tree! Join us in the City Hall grounds 18th November to 22nd December. 🎄🤩 pic.twitter.com/EKr8QZkAUU

— QRadio (@QRadioOfficial) November 3, 2023
The much-loved carousel will provide a memorable treat for young children and parents and vintage Helter Skelter returns, offering breathtaking views across the market and a thrilling slide back to street level for those who dare!
With an increase in local offering at this year's market, support for local food and craft continues, with several popular St George's Market traders joining in the festive fun. Some local favourites will also be returning including Pappas Minerals and Tapitas, Rossi's Ice Cream and the Toasted Marshmallow stall.
This year Belfast Christmas Market is proud to be supporting one of the Lord Mayor's charities, Kids Together Belfast. The charity works tirelessly on behalf of children with severe to moderate disabilities, as well as providing emotional and financial support to their families and carers. Operating Santa's Grotto, Kids Together Belfast, will be working closely with local charity, Friends of St Gerards and Belfast Christmas Market to deliver a Quiet Room within the market. The Quiet Room will offer a calming sensory space for those who need a momentary escape from festive overstimulation and the hustle and bustle of the market. Visitors can request use of this calm space by visiting the management office.
Lord Mayor of Belfast, Councillor Ryan Murphy said:
'For many people from Belfast and beyond, no visit to the city centre is complete at
Christmas without a stop by City Hall for a bite to eat or a browse through the Belfast
Christmas Market stalls.
I'm so pleased that one of my charities, Kids Together Belfast, will be further
enhancing this year's visitor experience through their Santa's Grotto and the addition
of a safe, quiet space for families, while the mix of local and international traders
combines to deliver a great offering for both shoppers and visitors.
With the return of our own Christmas lights switch-on event at City Hall once again
on Saturday 18 November, along with seasonal events planned for our 2 Royal
Avenue venue, there'll be plenty to see and do in Belfast this festive season.
"The market is hugely popular and its arrival always heralds the start of the festive
season for the city. It's lovely to take a stroll through the stalls, soaking up the
atmosphere and taking in all those delicious smells. And every weekend in the run-up
to Christmas, we'll have lots of free festive fun for families so, young or old, if you're
coming in to visit the market, shopping, having a bite to eat or just to see the
Christmas lights, there'll be plenty to see and do."
To keep track of Christmas Market news, and the ever-important weather updates, follow the official Facebook, Instagram and TikTok page at Belfast Continental Christmas Market. Keep an eye out for our fabulous social media activity in conjunction with our media partner Q Radio, who will also be offering spot prizes and lots of opportunities to engage at the food court!
Belfast Christmas Market will open in the gardens of Belfast City Hall at 12noon on Saturday 18 November and run until 6pm on Friday 22 December.
Opening hours are:
Monday – Wednesday 10am – 8pm
Thursday – Saturday 10am – 10pm
Sunday 12noon – 6pm